Koala Habitat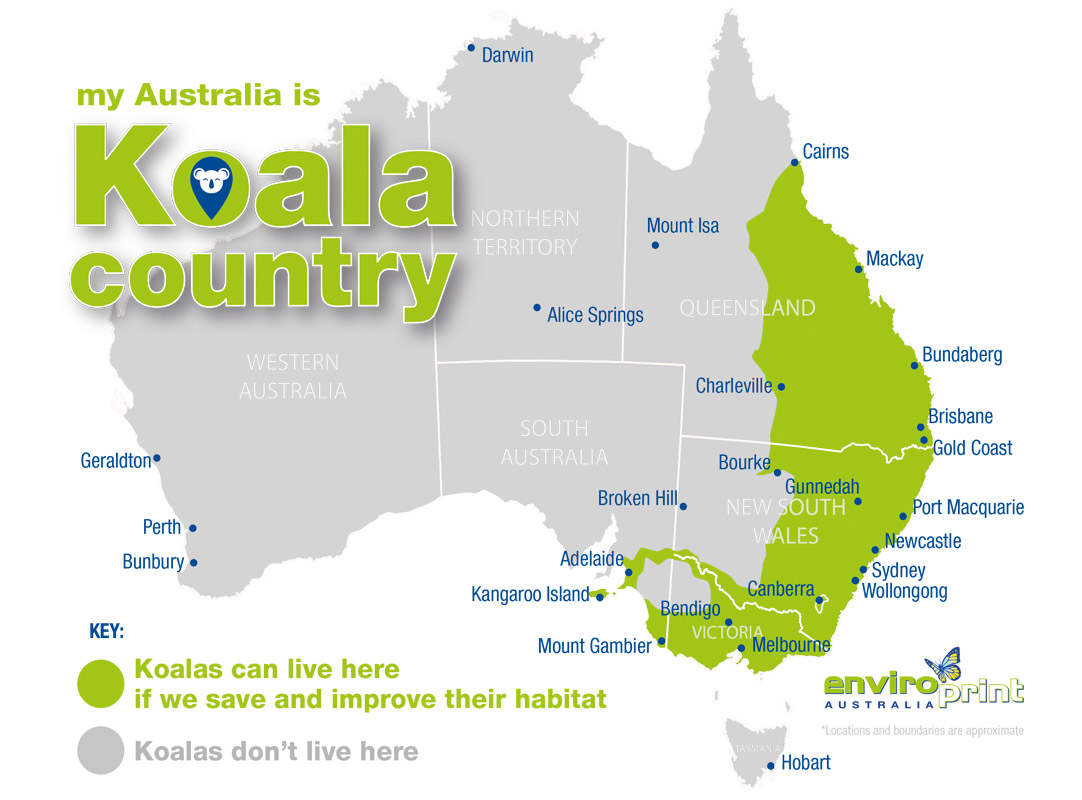 Koalas are facing imminent extinction in our country!
Koalas may become extinct in the wild in Eastern Australia by as early as 2050… Unless we DO SOMETHING ABOUT IT!
Wild koalas only live on the eastern side of Australia – unfortunately for them, that is also where the majority of Australians live. We must save and improve Koala habitat to guarantee their survival. We need to save wild spaces for Koalas to live, breed and be safe. Every creature has the right to exist, our challenge is to make sure they do.
If Australians can save the 'most loved' animal in the world, we can also save thousands of other species that live in the same habitat, and that perhaps are not as cute or iconic.
Prior to European settlement, many millions of Koalas lived in Eastern Australia where suitable habitat existed – indicated by the green area on the map above. By the early 1900's it is estimated that approximately 8 MILLION harmless Koalas were killed – mostly for their pelts for the then fashionable fur trade. They were easy targets for hunters.
These days Koala deaths are often out of sight, and occur on the bush areas that surround the expanding urban sprawl of humans. If your home is in the green area on the map above, perhaps Koalas live near you, or did in the past before your suburb was built.
According to the Australian Koala Foundation's "Koala Manifesto" (2021), the Koala Population of Australia is scientifically calculated to range between 46,586 and 83,663 – that's less than 100,000 wild Koalas in the whole of Australia's Koala Country!
EnviroPrint Australia are keen to support the many organisations doing fantastic work to save Koalas. Our plan is to sponsor Koalas to raise community awareness of their plight, and to spotlight the challenges that wild Koalas face in the shrinking liveable habitats they cling to.
EnviroPrint's Donations & "Adopted" Koalas: