EnviroPrint
Opportunities to do great things seldom come along. But every day offers the chance to do something small that can make a difference. Purposely selecting recyclable and reusable items for your lifestyle such as biodegradable, ethically and sustainably sourced paper is one such choice. We have embarked on the path to a better future, and your assistance in helping us achieve this is invaluable.
Our main goal is to enhance public awareness of environmental conservation, cultural harmony, and the important work of Australian charities.
The EnviroPrint idea was born in 2001 from a passionate, humble beginning. Inspired by the need to assist his local Kuradji Aboriginal community, Peter Marsh simultaneously forged a method to eliminate wasted resources in the workplace. Through the years this originating idea has continued to develop and grow. Our EnviroPrint Assistance Program has become an integral part of the day to day business of all employees.
Our focus remains to assist Environmental, Conservation, Cultural and Charitable organisations with solutions that aid their projects:
• Options tailored to meet environmentally responsible community requirements
• Cost savings for printed items and related services
• Australia-wide service with online ordering and distribution
• Special products for registered EnviroPrint Australia non-profit organisations
• Assistance with ideas in marketing and networking
• Print related products and services including graphic design and mailing
We're a family business progressing into the future.
Technological change is continual… and it's a challenge to be constantly relevant. A balance of printed and electronic communication is required by most organisations to achieve results – EnviroPrint Australia can help you with these cross-media solutions.
Print is tangible, you can touch and feel it. It's a very personal way to connect with others. In a world of ever growing streams of online messaging, receiving a printed document is once again creating a revolution. Smart designed, targeted printed communications can really gain results for your organisation. People continue to need print.
We love what we do.
We want to make as big an impact as we can, and pass on our collective passion to future generations to keep up the constantly evolving messages and directions we have to take to improve our human performance record!
We love what we do and strive to enjoy each day making a difference and focusing on the important long term goals that the world needs to face. Dealing with like-minded people we can speed up the required tasks by focusing our energy together!
Awards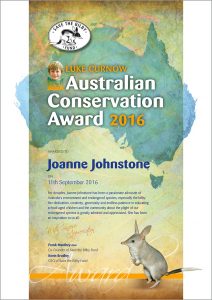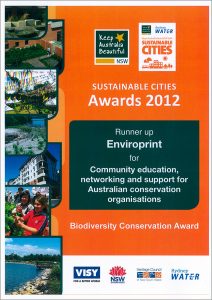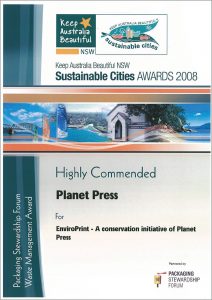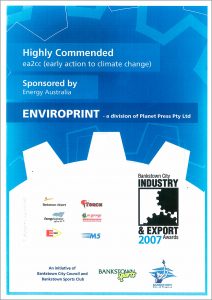 2016 – Luke Curnow Australian Conservation Award to Joanne Johnstone
2012 – Runner Up Biodiversity Conservation Award Keep Australia Beautiful NSW
2009 – Runner Up Sustainable Business Award Keep Australia Beautiful NSW (in assoc. with Planet Press)
2008 – Highly Commended Waste Management Award Keep Australia Beautiful NSW
2007 – Highly Commended ea2cc (early action to climate change) Bankstown City Industry and Export Awards