Online Ordering Portal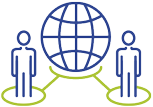 EnviroPrint Australia's secure online ordering portal works in real-time with our quotes, production teams and warehouse. Inclusion into the Online Ordering Portal is optional for contracted or regular customers.
Planet Portal features that will benefit your organisation:
Document Library. Item Code generating Document Library for online asset management with links to high resolution pdf print-ready documents for version control.
Production. This option allows users access to view all quotations including specifications, pricing breakups and details, all jobs including specifications and order status, plus enables online request for quotations to be submitted.
Quotations. All quotes prepared for the customer are listed. Quotes may be searched for by quote number or key words from the description title. Select the required quote with the radio button then click show detail for more information.
Order Stock Item. Finished goods stored in our warehouse are entered into an online catalogue. Users have access to stock level information, document version dates for forms control and can place orders for unit picks.
Stock Identification. All items entered into inventory warehouse stock are allocated a product code with version number and date. Preview images as thumbnails and zoom images are also provided to enable users to confirm correct item selection before order is placed for pick.
Document Templates. Online templates can be prepared for a range of often used print items such as business cards, envelopes, letterheads etc. which require to be personalised. Authorised users can enter, view and approve their own artwork online.
Business Card Entry Online. Authorised users can enter the required details into prepared templates online, and preview the artwork in pdf format for approval. Email confirmations are sent for approval and at times of order placement, with final artwork pdf submitted electronically to our art department.
Administration & Reports. Authorised users can be given access to self manage user passwords and delivery address database. Complete order history is also available as well as a range of online reports.
Online Reports. A range of online reports are available including Stock Level Report, Web Order Report (with filtering options), Stock On Hand Report, Back Order Report and Reorder Report. Reports are previewed in pdf format and can also be exported to excel file.
Request a demo to discuss how this system can help you.